CD "In a Silent Place"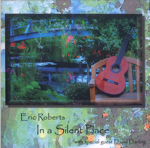 Although Denver musician Eric Roberts is primarily known as a bass player, guitar is his first love, and his debut CD entitled "In a Silent Place" showcases his beautiful classical guitar in a relaxed yet uplifting setting featuring cellist David Darling (formerly of the Paul Winter Consort and recording artist on the ECM, Hearts of Space and Relaxation labels), guitarist Robert Weinstein and percussionist Ed Contreras. The music ranges from lyrical and melodic instrumentals to spontaneous collaborative and solo improvisations featuring Eric on nylon string guitar, steel string guitar, fretless bass and guitar synthesizer. So sit back, relax and enjoy a wonderful debut CD from a most talented musician!
In a Silent Place by Eric Roberts is now available at the following locations:
EP "My Brazilian Heart"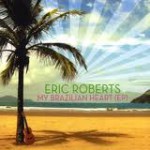 My Brazilian Heart includes 6 original smooth jazz and Brazilian compositions that were written around the same time as his previous CD, but never got around to recording them to his satisfaction. He was initially attracted to Brazilian music upon hearing the music of Antonio Carlos Jobim and the song "Samba Do Avio", arranged by his guitar instructor, Jack Greenhouse, at the New York State Music Camp. What a revelation that was and from that moment on, he was hooked on nylon string guitar!
My Brazilian Heart by Eric Roberts is now available at the following locations:
Electronic Presskits